Events
The inauguration ceremony of the most modern industrial center for processing seed and agricultural products
The processing center is invested on an area of 5 hectares, with modern Japanese processing lines. Seed processing capability of 30 tons / hour, rice processing capability of 30 tons / hour, Total investment capital of 1st phase is about 350 billion dong.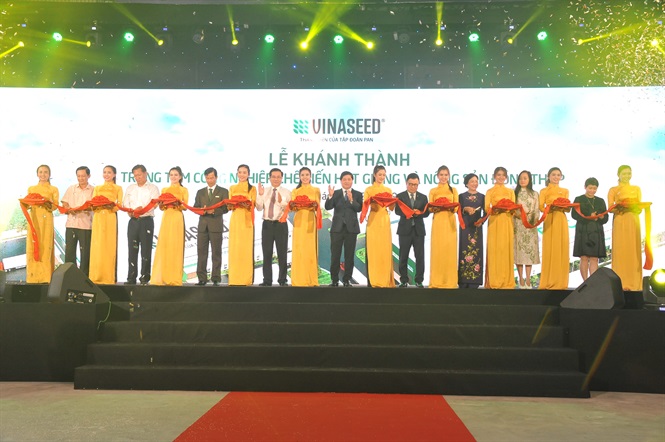 Ribbon cutting ceremony to inaugurate the Center of Seed and Agricultural Product Processing Industry in Dong Thap
On the morning of December 14, at Truong Xuan commune, Thap Muoi district, Vietnam Seed Group (VINASEED) held the inauguration ceremony of Dong Thap seed and agricultural product processing industrial center.
Attending the meeting were Deputy Minister of Agriculture and Rural Development Le Quoc Doanh, Head of Department of Crop Production, Department of Plant Protection, Department of Agricultural Market Development, National Agricultural Extension Center, Central Center for Seed Testing, Institute of Rice. Mekong Delta, local leaders, Department of Agriculture and Rural Development of provinces and cities with generations of leaders, scientists, agricultural experts.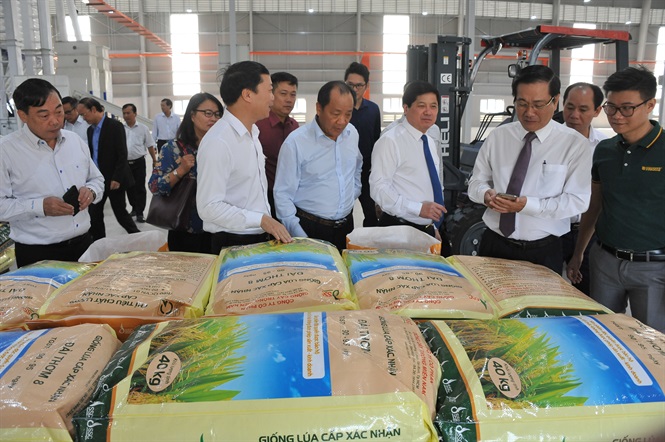 Deputy Minister Le Quoc Doanh and delegates visit the factory line.
Speaking at the ceremony, Ms. Tran Kim Lien, Chairwoman, CEO of Vinaseed said: "As an independent enterprise established in 1968, under the Ministry of Agriculture and Rural Development, Vinaseed currently has become an largest agricultural corporation in this industry in Vietnam. In 2019, the business scale will reach 85 thousand tons of seeds, equivalent to 1 million hectares of cultivation. Revenue 1,605 billion VND with 80% coming from science and technology products, equivalent to 1,200 billion VND, accounting for 20% of the national market share. Owner's equity 1,052 billion VND. Average growth rate is 30-40% / year.
From 2014 to 2019, Vinaseed has invested 1,510 billion VND. In which, 300 billion VND for research and transfer of science and technology, 1,200 billion VND for industrialization of seed industry and expanding business scale of the company.
Especially now Vinaseed has 4 varieties in the Top 10 most cultivated rice varieties in Vietnam, of which there are 2 aromatic rice varieties RVT and Dai Thom 8. Particularly Dai Thom 8, after only 2 years of recognition, it accounts for 18 % structure of rice production for export of the Mekong Delta.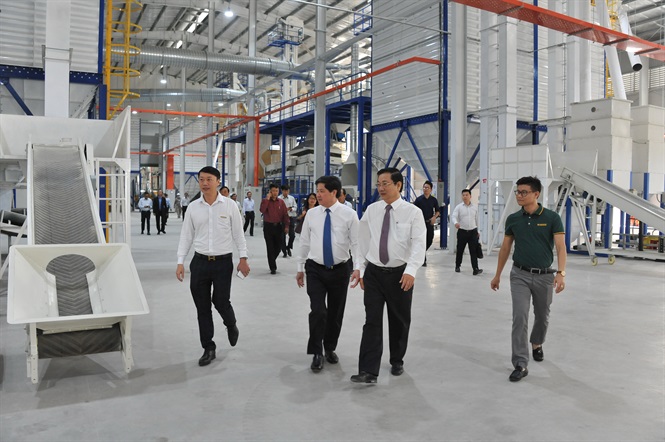 The delegates visited the most modern industrial center of processing seeds and agricultural products in the Mekong Delta.
In order to contribute to the restructuring of Vietnam's rice industry to 2020, with a vision to 2030, Vinaseed's Board of Directors has decided to invest in a project of an industrial center for seed processing and agricultural product processing in Dong Thap province. The project becomes a large industrial center of seed processing and agricultural product processing with 4.0 technology in the Mekong Delta with a modern, synchronous and automated technology chain system with 100% Japanese technology. The 1st Phase has a total investment of nearly 350 billion VND, the capacity of processing and preserving 100,000 tons of rice / year and 50,000 tons of seeds / year. Rice products are made by modern lines, keeping their natural taste after processing, meeting rigorous inspection procedures according to international standards, and safe for people.
Vinaseed always commits to achieve three goals: maintaining sustainable economic growth, implementing social responsibility and protecting the environment, making efforts to bring all of our capabilities, research resources, and transfer Latest scientific and technological progress, the best product lines to all parts of the country.
Deputy Minister Le Quoc Doanh commented, highly appreciated Vinaseed's investment in a seed and agricultural product processing line in the Mekong Delta.
To manage and operate the factory in operation, Vinaseed has officially established Vietnam Rice Co. Ltd. (Vinarice) with 3 main objectives: Research, select, create, and trade in plant varieties for export areas. The largest rice in the country in 13 provinces of the Mekong Delta. Focus on product lines that are resilient to climate change and pests, approach the world trend of safety and quality product standards. Increase the rate of farmers using certified rice varieties to 75% and increase farmers' income by 30%.
To have a successful Vinaseed today is thanks to the trust and support of agencies, organizations from the central to local levels, suppliers, contractors, and customers. Especially, the PAN Group believes and creates all conditions.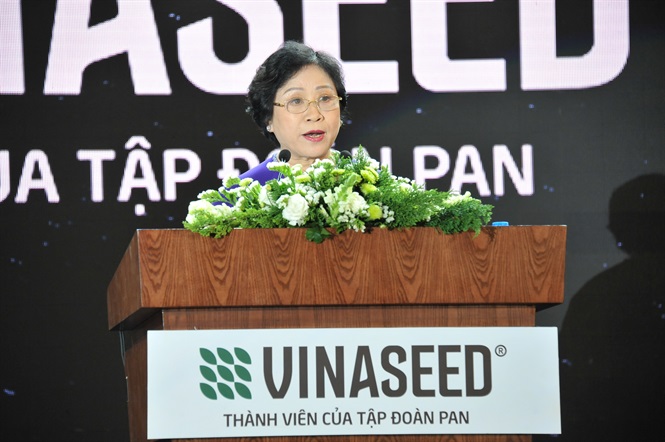 Ms. Tran Kim Lien, Chairwoman, CEO of Vinaseed.
Mr. Nguyen Thanh Hung, Vice Chairman of Dong Thap Provincial People's Committee, said: Dong Thap is the third province in rice production in the Mekong Delta, an average annual output of 3.5 million tons. The inauguration of the largest and most modern Dong Thap agricultural and seed processing industrial center in the Mekong Delta is of great significance to the province and region. This is the joy of the people of Sen Hong land, thereby contributing to changing the production practices of farmers, eventually ending the use of low quality rice seet to cultivation, therefore contributing to improving the quality of Vietnamese rice.
Deputy Minister of Agriculture and Rural Development Le Quoc Doanh emphasized: Mekong Delta is the center of production and export of key agricultural products, especially rice, fruit and seafood. Particularly rice, the Mekong Delta annually produces 25 million tons of rice, accounting for 60% of output and over 90% of export turnover of the country. In the past years, although the rice industry in the region has undergone a strong change and achieved remarkable results. However, there are still many difficulties and limitations affecting the efficiency, sustainability and competitiveness of this important industry. Especially the quality, seed quality and quality of commodity rice. In order to overcome the above difficulties and limitations, in addition to the efforts of localities and farmers, it requires more participation of enterprises, especially businesses with rich potentials and long-standing business. experience in manufacturing and trading in this sector, such as Vinaseed.
The operation of the center will contribute to perfecting the rice value chain applying the 4.0 technology from seed to organizing production, harvesting, processing and selling products. As a basis for forming large-scale specialized farming material areas associated with processing, preserving varieties and producing and trading branded rice for domestic consumption and export for the largest rice producing region country. In particular, contributing to the implementation of the master program for sustainable agricultural development, adaptation to climate change in the Mekong Delta.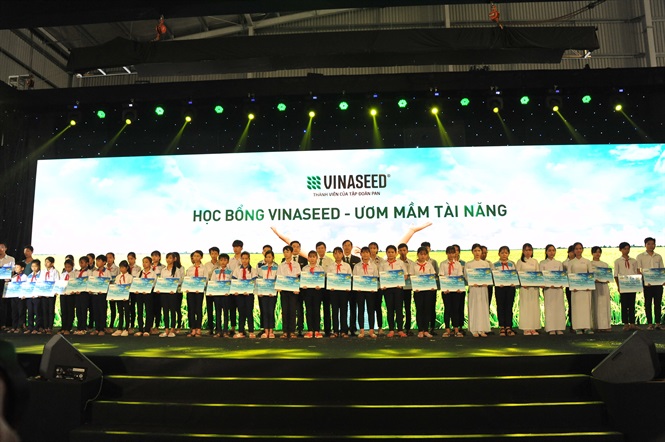 Vinaseed awarded scholarships to poor students in Dong Thap.
On the occasion of the establishment of the Center and the official operation of the factory, Vinaseed awarded 50 "Nurturing talents" to poor, studious students in Dong Thap province, each worth 5 million VND / child / student. years until they finish high school.
Theo Nongnghiep.vn